Automatic Rivet Tool
Regular price
$145.95
Sale price
$199.00
Unit price
per
Tax included.

The underdog tool of the year that puts expensive brands in the shade.

The Automatic Rivet Tool allows you to join materials as firmly and securely as with a classic rivet, but retain the flexibility of a screw joint... at a fraction of the price of the established competition!
The Automatic Rivet Tool provides a brand new modifiable way to fasten for example off-road modifications, body panels, bicycle attachments, firewall additions or even metal sheet roofing! 
Extremely simple

 

and fast application to save time and nerves
Fair price, because we work without middlemen
Extremely durable

 

and vibration-proof connections plus the flexibility of a screw connection
For rivets

 

M3, M4, M5, M6, M8
What makes the Automatic Rivet Tool so popular?
It is extremely easy to use to save you as much time as possible! The tool-free quick-change head design makes it simple to change mandrels and nose pieces quickly without the need for additional tools, smooth your project, and save your time.

Practical ergonomic design for effortless use
The rivet tool makes your work much easier in many everyday situations. the simple mechanism not only saves you time but also strength and nerves.

with the rivettool you can even reach places that are difficult to access easily. it is the all-rounder in all areas of application. Great for example for off-road / Jeep modifications.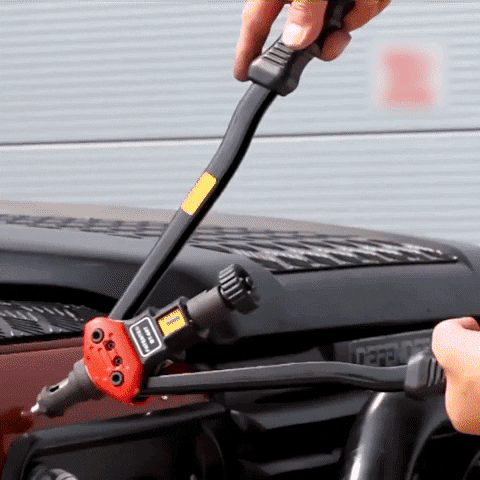 Robust design for a lifetime of use
The rivet nut tool is made of thick, heat-treated carbon steel. A black phosphating protects against corrosion. This makes it robust and durable enough for a long life. With this one-time investment you are prepared for a lifetime
Specifications

Material of the tool: Alloy steel
Material of Rivet Nuts: Zinc Plated Carbon Steel

Model - Automatic Rivet Tool:

 Length 15" [38 cm]; Handle 4" [10 cm]

Interchangeable mandrel:

 Drill size: 

Metric

 M3 M4 M5 M6 M8  
Package includes:
1 X  Automatic Rivet Tool Set
1 X Toolbox

1 X Set 200 pcs
---