Best Kitchen Knife And Scissors Sharpener
Regular price
$20.99
$0.00
Unit price
per
Tax included.

Restore Your Straight-edge Knives And Keep Them Honed For Precise Cutting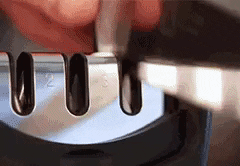 There is a saying, nothing is more dangerous than a blunt knife, and for a good reason! Blunt knives cut inconsistently and require more force to cut something than a sharp knife, making it easy to slip and cut yourself.
A kitchen knife should glide through most things you need to cut, and with this professional  Kitchen Knife And Scissors Sharpener, you will be able to cut paper-thin slices of your favorite food with all your knives!
With durability and ergonomic in mind when designing our products, we chose the best material to reach both goals simultaneously, it is a streamlined, easy to use, and highly resilient product.
Built-in 3-Steps Sharpening System:
Step 1 - "Ceramic" (preparation): For repairing and straightening damaged blades. Use also for ceramic blades.
Step 2 - "Coarse" (shaping): Restores the cutting edge to perfect "V" shape.
Step 3 - "Fine" (Sharpen): Polishes the blade and smoothes out any blade irregularities for perfect sharpness.
Suitable For All Types Of Knives:
Our knife sharpener can give you an efficient, effective, and suitable for all types of knives, such as kitchen knife, chef knife, boning knife, fruit knife, sushi knife, steak knife, butcher knife, etc. Keep your knives sharp enough to slice through tomatoes and steak like butter.
Premium Quality:
With our professional knife sharpener kit, you do not have to be a chef to cook like one! Crafted from solid ABS plastic, it is robust, durable, and designed to last a lifetime. Made with high-quality materials. Knives will work like new.
Specifications:
Material: ABS Plastic + Stainless Steel Slot
3 Stage Slot Material: Ceramic + Tungsten Steel + Diamond
Size: 20cm x 5cm x 7.5cm (7.9" x 2" x 2.95")
---