Household Sensitive Mouse Trap (6PCS)
Regular price
$32.99
Sale price
$45.99
Unit price
per
Tax included.

This trap for catching mice has a powerful and sensitive spring built in. Its reaction speed is fast, it kills mice faster, and the mice die less painful.

Just put a bait in the cup, then plug it back in, open the clip, and place the mousetrap in a corner of the home out of the children's reach. Throw the killed rat into the trash can.
FEATURES
High Sensitive & Effective: These rat traps are also upgraded with 1s trigger and thick powerful spring. That means that as long as the mouse touches the pedal, it will get caught within 1s. There's no way to escape from it. 

Material & Reusable

: These traps are made of premium ABS material, Which is much more heavy-duty and long lasting, as well as no residue, no odour,no rust compared to the wooden snap traps or metal traps.
Easy to Set Up & Clean: These Mouse Traps are designed with a detachable bait cup and made of premium ABS material. Just pull out the bait cup and fill with bait, and then press the bar to the end. Done, the trap is all set. You can clean it simply by water when they get dirty.
How To Use:
Just put the bait in the trap (cheese, chocolate or raisins work best).

Place the trap on the edge or corner of the room.

Once the rat enters the trap to find the bait, the door closes behind it. You can release the mouse anywhere without harm.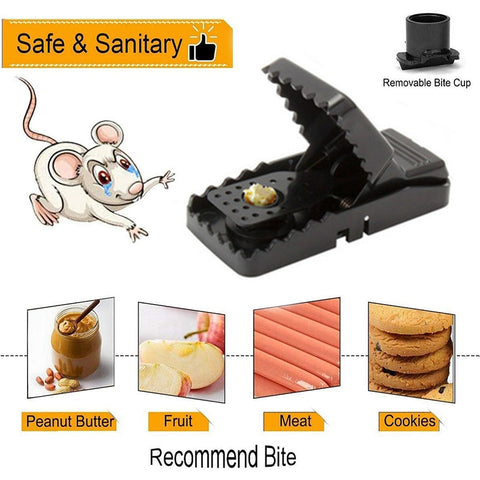 SPECIFICATIONS
Material: PC+ABS
Color: Black
Weight: 400g / 0.88lb
Size: 
PACKAGE INCLUDED
6 × Household Sensitive Mouse Trap
---