Mesh Shoes Laundry Bag
Regular price
$19.99
Sale price
$21.99
Unit price
per
Tax included.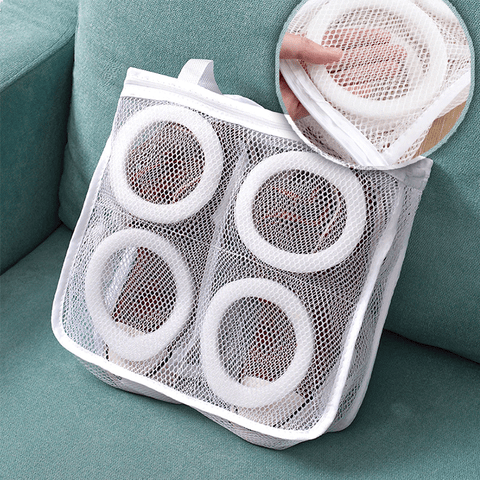 Can you put shoes in the washing machine? Yes! Many of us don't realize that there are lots of different types of shoes that can be washed in the machine, helping to save you time and money. However, if not properly done and cautiously prepared, your shoes can be broken and ruined. It's a good idea to pop your shoes, and your laces, inside this Mesh Shoes Laundry Bag to protect them from becoming snagged on the inside of the drum. These will act as a buffer, helping to stop your shoes banging against the drum during the wash!

PRODUCT FEATURES:
3 IN 1 design. This bag does not just act as a laundry bag, but also for drying your shoes and organizing your shoes! We all know how eye- bugging it is seeing your shoes everywhere and not organized. Now, you can wash, dry and organize your shoes with this mesh bag.
Keeps your sneakers safe. This Mesh Shoes Laundry Bag prevents laces from getting caught in spinner and keeps yours shoes safe in the laundry. This also has a built- in automatic lock zipper-head function design, and side-cover protection to avoid the laundry bag be opened while washing.

Easy drying. After the wash cycle is done, it's time to dry your shoes. A word of warning, though – don't put your shoes in the dryer. The high temperatures can damage the glue that holds them together, and it may even cause certain fabrics or materials to shrink. This Mesh Shoes Laundry Bag has a two elastic hanging loops allow convenient air-drying on a drying rod. Just find a cool and well-ventilated space to let them air dry with this mesh bag.

Lightweight and versatile. This bag is light-weight for convenient packing and storage. Helps preserve your shoes for longer with our multi-purpose mesh bag. Our easy to use mesh shoes laundry bag is designed to fit trainers up to size 10.

Durable and heavy duty. The bag has a secure zipper closure that ensures that the shoes do not fall out of the bag during the washing process. Heavy duty mesh material can withstand the drying process and protects sneakers from damages.
PRODUCT SPECIFICATIONS:
Size: 28x24.5x8cm/11.0"x9.6"x3.1"
PACKAGE INCLUDES:
1 x Mesh Shoes Laundry Bag
---