Modern Magnetic Screen Door
Regular price
$49.52
Sale price
$51.99
Unit price
per
Tax included.

LET FRESH AIR IN, KEEP ANNOYING BUGS OUT. 
Let's face it, houses can be STUFFY, especially when you are stuck at home for weeks at a time. All that stagnate air is filled with dust, germs and pet dander that can create an unhealthy living environment.  
DID YOU KNOW FRESH AIR CAN
INSTANTLY.....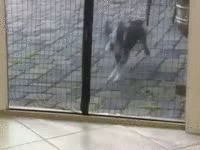 CONSTANTLY
opening the door to  let your pets, kids inside, doesn't have to be a hassle. This spring,  don't let mosquitos, flies and other insects get in the way of opening your doors and windows.  Breathe deep knowing you can enjoy the outdoors, without letting the bugs inside! 
 Now your furry friend can come and go whenever they please with our Modern Magnetic Screen Door—a HANDS FREE door that keeps bugs out while allowing your pets to run outside whenever it's time to "go," or when it's time to play. 
NO MORE SCRATCHING TO BE LET IN ---OR--- CONSTANTLY SLAMMING SCREEN DOORS.
No need for
EXPENSIVE
 hard to install screen doors.  Our amazing
 

Modern Magnetic Screen Door
 is perfect to keep the unwanted bugs out while you enjoy the fresh spring air! 
NOT ONLY WILL YOU LOVE IT, BUT YOUR FOUR LEGGED KIDDOS WILL THANK YOU.   
TALK ABOUT A SIMPLE FIX THAT BENEFITS THE WHOLE FAMILY.  OUR MODERN MAGNETIC SCREEN DOOR  IS A MUST HAVE FOR YOUR HOME.
Our magnetic design makes it super convenient to come in and out without having to worry about mosquitos, flies or other insects getting in.  It instantly opens and closes without any slamming doors! 
🏠 Fits All Doors Up To 38" x 82"
📐 Installs In An Instant
🧲 Opens and Closes Like Magic
♻️ Durable, Heavy Duty Mesh
---